Check In / Check Out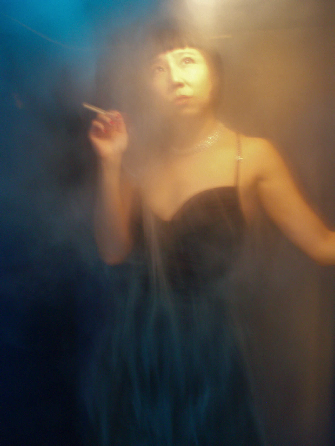 02 July 2007
Reflecting the ways in which Live Art can offer audiences innovative, intimate and engaging experiences, the three artists will each respond to the Great Eastern as a site and take hotel guests and visitors on unusual and unexpected tours of the hotel and its environments. Walk this way….
Marcia Farquhar 
The Behind Closed Doors Tour
Assuming the hotel to be the past and present site of anonymous excesses and discreet indiscretions, Marcia Farquhar will lead a tour of the Great Eastern in search of traces of what may or may not have taken place. Drawing on her own experiences as a chamber maid, a decadent guest and a snoop, Farquhar's tour is likely to refer to personal anecdote, history and hearsay, and to be guided as much by contingency as by conscious or unconscious planning.
Richard Dedomenici
 Riot in the Hyatt
Inspired by corporate training videos he has found on YouTube, and the 1949 Bollywood classic Andaz, the self styled one-man subversive think-tank, Richard Dedomenici, will take audiences on tours of the Great Eastern whilst simultaneously involving them in the creation of a new Corporate Management Training video (which will in turn be posted on YouTube!).
Stacy Makishi
 Room 474
Get on board with Stacy as she considers that the Great Eastern and the Titanic were two of the largest ships ever built and both suffered the same kind of accident soon after they put to sea. Room 474 is a tour which investigates the underbelly of icebergs, between hotel bed sheets and steamy cold showers. It's about 'going down', coming up for air and holding on too long for love and life.
Bookings: 
You must book a place for Check In / Check Out in advance by emailing Simon.Warrington@hyattintl.com. Please put Check In / Check Out in the subject line and include your email and phone contact details. Please note that Check In / Check Out is not suitable for children and that capacities are limited.
Address: 
Great Eastern Hotel
40 Liverpool Street
London EC2M 7QN
Credits: 
Check In / Check Out has been commissioned by Live Art UK, co-curated by the Live Art Development Agency and Colchester Arts Centre, and supported by the Great Eastern Hotel. Check In / Check Out furthers Great Eastern's commitment to customer experience, by adding value to the GEH memories guests take home. www.london.greateastern.hyatt.com
With thanks to Simon Warrington of Great Eastern Hotel, Emmy Minton of Live Art UK, Arts Council England, and contributing artists. Stacy Makishi's Room 474 was devised with Rachel Mars, Vick Ryder and creative consultants, Joshua Sofaer and Sue Baynton.
Biographies

Marcia Farquhar's performances have often been described as 'entertaining' and 'humorous', but she prefers to hear them described as 'intense and precarious'. She does however like the sound of laughter. Her practice encompasses performance, installation, painting, photography and script writing, and much of her work has been concerned with the telling and retelling of stories from both private and public areas of experience. www.marciafarquhar.com
Richard Dedomenici is dedicated to the development and implementation of innovative strategies designed to undermine accepted belief systems and topple existing power structures. His poetic acts of low-grade civil disobedience forcibly ask pertinent questions of society, while his subtle anarcho-surrealist interventions create the kind of uncertainty that leads to possibility. www.dedomenici.co.uk
Stacy Makishi is a Hawaii-born-London-based artist who works in a variety of media including Live Art, site-specific installation, video, new writing and physical theatre. Her work is often about absence, displacement and memory from the point of view of the foreigner, and explores the tensions that exist in the places in between: between here and elsewhere; between the abject and sublime; between desire and repulsion. Whether she takes on a horror film, fashion show or psychic intervention, her work is often infused with a surreal humor. www.stacymakishi.com