SKIN in the GAME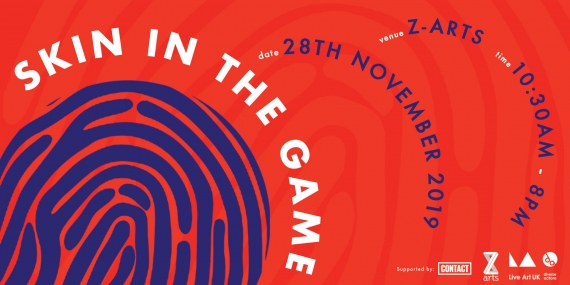 17 July 2019
This event marks the first part of the culmination of three years of Diverse Action's activity.
SKIN in the GAME is a free and exciting programme of discussion by a representative programme of Black, Asian and Minority Ethnic artists, leaders, academics and organisations taking place at the community hotspot - Z-arts, Hulme, on Thursday 28 November 2019.
We will create an open and safe space for this discursive honesty that will shape the future of Diverse Actions as a programme undergoing transformation and inform wider Live Art UK activities and broader programming.
The day will consist of morning flash talks hosted by Afreena Islam and Harold Offeh questioning how Diverse programming works with confirmed speakers such as; Jade Montserrat, Hetain Patel and Hardeep Pandhal.
Lunch will then be provided by a well know Tibetan inspired company then we will regroup to immerse ourselves in the leadership workshops.
Audiences have the choice of 2 workshops:
Season Butler: Live Art 2020, re-imagining live art for the future.
Jack Tan: Decolonising Governance and Queering Constitutions
Then it's on to the evening showcase of home-grown talent with surprise performances by established Diverse Actions supported artists!
So please join us for our FREE interactive multimedia symposium next month!
Click here for full info and to secure your tickets.
(This is an accessible venue and we will be providing childcare and travel bursaries in order to enable as many audience members to attend our event, find more details on the Eventbrite page.)
More information on Diverse Actions.