Block Universe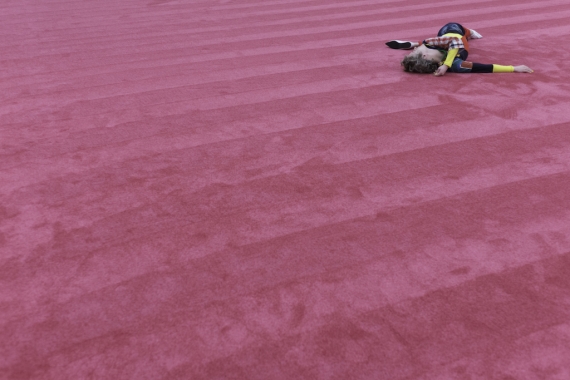 The international performance art festival, Block Universe, has completed its fourth and largest edition to date. The festival consisted of a ten-day long programme (26 May to 3 June 2018) of newly commissioned performances and UK premieres from emerging and established UK-based and international artists. The Block Universe team launched the festival at The Store X at 180 The Strand with an evening of performances, featuring Josephine Chime (In Flames), Fernanda Muñoz-Newsome, Rowdy SS feat. Rebecca Bellantoni and Zoee featuring Rafal Zajko, Uniti.
In collaboration with cultural institutions and organisations across the city, including the Royal Academy of Arts, ​Siobhan Davies Dance​, ​The Store X​, ​British Museum​, ​Somerset House​, ​Studio Voltaire​, ​Oval Space ​ ​and Brunel Museum, ​the festival presented work by some of the most innovative UK-based and international artists working in performance today, alongside talks, workshops and special projects.
Positioning London at the forefront of international performance art, Block Universe 2018 featured three UK premieres (​Maria Hassabi​, ​Giselle Stanborough ​ ​and ​Nora Turato​​) and seven new, site-specific commissions (​Evan Ifekoya & Victoria Sin​, ​Gery Georgieva​, Hanne Lippard​, Alex Mirutziu​, ​Last Yearz Interesting Negro/Jamila Johnson-Small​, They Are Here ​ and Laura ​Wilson​) by artists working at the cross-section of contemporary visual art, dance and music.
This year's edition explored themes that act as a counterpoint to the current divisiveness created by contemporary politics, focusing on, as well as questioning, utopian ideals of community and collectivity.
By addressing the ways in which we relate to one another, the contributors responded to the larger fabric of society that binds us as well as to the politics of sex and love in our personal relationships
Notable works include the UK debut of ​ Maria Hassabi​'s ​STAGING: Solo #2​, a durational performance at 180 The Strand in collaboration with The Store X, new commissions by Last Yearz Interesting Negro/Jamila Johnson-Small​, ​in partnership with Gaia Art Foundation, ​Gery Georgieva​, supported by Outset Contemporary Art Fund; and ROUTINE​, ​a project created by art collective ​They Are Here, ​which addresses issues related to precarious labour and the gig economy - a theme already touched upon in their earlier works developed at Tate Modern in 2017. Special Projects included The Morning After Breakfast Club, hosted by Jenny Moore and Chloe Cooper from the bedfellowsresearch. In the early hour between the walk of shame and the water cooler, they invited guest storytellers to share their sex stories, confessions, trips, insights, gossip, spoilers, scoops, lies and jokes.
The next edition of Block Universe will take place from 25 May to 2 June 2019 and will mark Block Universe fifth anniversary. Stay tuned/visit the website for updates and follow Block Universe on instagram.
Categories: Report
Date Posted: 27 June 2018