Franko B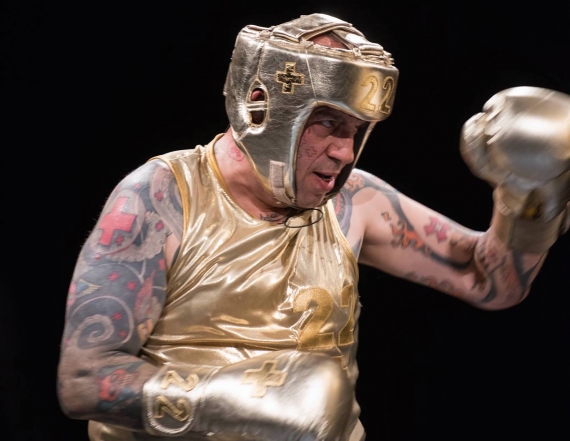 Franko B is an extraordinary, internationally acclaimed artist who has been making performances, drawings, installations, and sculptures for over 30 years. He lives and works in London and is Professor of Sculpture at l'Accademia Albertina di Bella Arti di Torino.
On Valentine's Day 2018 Franko launched his memoir, Because Of Love, which tells the story of his childhood in Italy in an orphanage and at the hands of his abusive family, his journey to London as a young man, his return to Italy many years later as an accomplished artist, and, in between, the story of his life and loves and his becoming an artist.
"It's a truly bewildering journey, brutal at times both as life and as punk literature – a back and forth from orphanage to abusive family home, to squat, to rave, club scene, AIDS activism, political protest and art practice – a trail that manages to be alien and yet somehow entirely recognisable". Tim Etchells, artist
"Franko B's was a painful, unavoidably compromised childhood - a tale in which the calm and quiet features of a family have fled, and he is dropped into a future that he had to forge for himself. Stolen from a conventional destiny, his body rises to become a glorious body - a body of art. It is also an eternal body, since there is a bond between the physical body and the art body. This is the condition of his freedom". Francesca Alfano Miglietti (FAM), curator, writer, art historian
Because of Love is published by the Live Art Development Agency, with a preface by Tim Etchells, designs by David Caines, illustrations by Giuditta Fullone
To mark the book launch you can also buy Franko B's 'Lost Boys' Ceramic Figures from Unbound.
On March 16 2018 Franko will give the final performance of the UK tour of his solo work Milk + Blood at Toynbee Studios, London. Appropriating the aesthetics of boxing, Milk + Blood is an exercise in mental and physical endurance. Exploring themes of pain, eroticism, revulsion, ecstasy and masculinity, the performance becomes a metaphor for social struggle and resilience.
Using the democratic tool of his own body, this performance touches on the personal, political and poetic, as Franko revisits themes of his previous work.
Categories: Featured Artist
Date Posted: 22 February 2018