Artangel's INSIDE: Artists and Writers in Reading Prison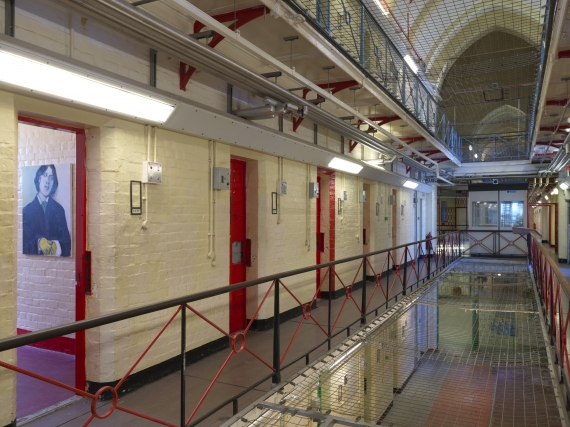 Between 4 September and 4 December 2016 Artangel presented INSIDE at HM Prison, Reading, an extraordinary project in which artists, writers, and performers responded to its most notorious inmate: Oscar Wilde. Contributing artists included Jean-Michel Pancin, Anne Carson, Jeanette Winterson, Danny Morrison, Ai Weiwei, Binyavanga Wainaina, Nan Goldin, Wolfgang Tillmans, Neil Bartlett, Ragnar Kjartansson, Patti Smith, and Colm Tóibín.
Here, Artangel Co-Directors James Lingwood and Michael Morris reflect on the project:
"In 2013, just after it closed as a penal institution, we visited Reading Prison. Standing in the small cell where Oscar Wilde served his time as Prisoner C.3.3. and wrote the letter known as De Profundis, convinced us that any project would need to hold Wilde's prison writings close to its heart. Walking down the wings, seeing the long rows of identical cells, feeling the architecture weigh so heavily on the spirit, suggested that such an undertaking should also address the broader human issues of confinement and separation.
Wilde's cell, like the others, is stripped back and designed only for the most basic of human needs. Many inmates have done time in this same cell and it seemed right to leave it exactly as it was. The original wooden door was located and installed in the former chapel by sculptor Jean-Michel Pancin. This repatriated portal stood at the edge of a simple concrete plinth, cast to the dimensions of Wilde's cell floor.
On Sundays the sculpture doubled up as a podium. Where prisoners once stood in coffin-like cubicles, a contemporary congregation listened to De Profundis. Neil Bartlett, Ralph Fiennes, Ragnar Kjartansson, Patti Smith, Colm Tóibín and Ben Whishaw, amongst others, read Wilde's letter in tests of endurance sometimes lasting in excess of six hours.
Other writers penned their own epistles, addressed to a loved one as Wilde's had been, reaching out with controlled passion beyond imposed separation, both real and imaginary. Visitors read or listened to them in different cells. Anne Carson conjured up Socrates imprisoned in Athens, writing to Krito the night before imbibing the fatal hemlock. Jeanette Winterson imagined herself as Hermione who, in Shakespeare's A Winter's Tale, gives birth to Perdita in a prison cell.
Other letters drew on actual experiences of incarceration. Danny Morrison was interned during the troubles in Northern Ireland and sentenced to eight years, his false conviction overturned five years later. Morrison writes the final letter of a condemned Irish revolutionary in the 1916 Easter Rising. In 2011, Ai Weiwei was interned without trial for eighty-one days. Writing to his infant son, he dispassionately describes a typical day, regulated to the tiniest detail by his captors.
Gillian Slovo composed a heartbreaking letter to her mother, the anti-apartheid activist Ruth First, on the typewriter First used until her assassination by the regime. Binyavanga Wainaina also writes to his mother, fifteen years after her death, describing a love that, in Kenya and elsewhere, still dare not speak its name.
New paintings of Wilde and Bosie by Marlene Dumas were hung in a cell together. Further down the wing was her portrait of Jean Genet, bruised and tenderised, whilst in adjacent cells hung paintings of his first and his last lover. Through the narrow slit in the closed door opposite, Un Chant d'Amour, Genet's banned 1950 film of rapturous gay desire, could be glimpsed : one amongst a number of films re-cut or made by Nan Goldin.
On the floor above, a figure in confinement recurred in self-portraits by Wolfgang Tillmans made in the prison. His features are distorted in a mirror, trapped both in the frame of the picture and the space of the cell; a destabilised image questioning both subject and system.
Finally, an image of emancipation: a single bird in a cloudy sky, printed on Felix Gonzalez-Torres' stack of posters. Echoing the first edition of De Profundis, its cover embossed with a golden dove escaping prison bars, each visitor was invited to take a poster home."
Edited from the introduction to INSIDE : Artists and Writers in Reading Prison, published by Artangel.
Categories: Report
Date Posted: 18 April 2017