Jade Montserrat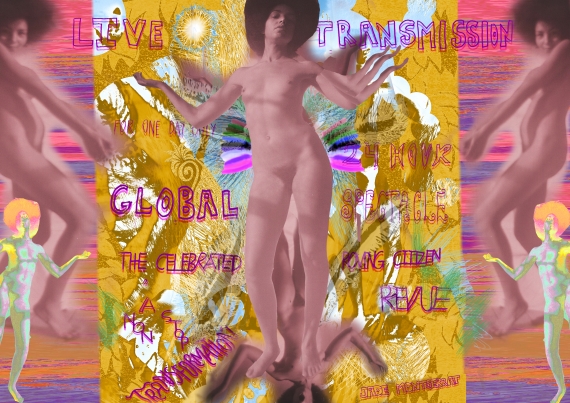 Jade Montserrat works at an intersection of art and activism through performance, drawing, painting, film, installation, sculpture, print and text. The artist interrogates these mediums with the aim to expose gaps in our visual and linguistic habits.
Jade is the recipient of the Stuart Hall Foundation Scholarship which supports her Jade's PhD (via MPhil) at The Institute for Black Atlantic Research, The University of Central Lancashire (Race and Representation in Northern Britain in the context of the Black Atlantic: A Creative Practice Project) - and associated development of her work from the black diasporic perspective in the North of England. She was also awarded one of two Jerwood Student Drawing Prizes in 2017 for No Need for Clothing, a documentary photograph of a drawing installation at Cooper Gallery DJCAD by Jacquetta Clark.
Jade's Rainbow Tribe project - a combination of historical and contemporary manifestations of Black Culture from the perspective of the Black Diaspora - is central to the ways she is producing a body of work, including No Need For Clothing and Revue. Jade has been commissioned to present Revue as a 24 hour live performanceat SPILL Festival of Performance, on 25 and 26 October 2018.
Revue will be filtered digitally through institutions in cities throughout the world where Josephine Baker performed, and then back into the public domain. The performance is intent on reimagining the representation of black bodies, with an emphasis on protection, care, positioning and preservation. Revue has the potential to invite multidirectional memory (Michael Rothberg) work by locating the performance within terms of reference including: slavery and the spectacle of bondage (slave auctions); consumption of culture and black presence within art institutions; visual consumption of the human body; 24 hour news cycles; dance marathons of the 1930s; monitoring and surveillance; operating in the world despite pain; narratology; time - circular time, racial time, revolutionary time. Repetition locates the performance as both historical and contemporary, embodied and disembodied, with and without agency: "When black life matters, time itself is altered, creating "revolutionary time". To make America great again is, then, to make it "white again," a temporal action in which the future becomes more like the past and less like the present." Nicholas Mirzoeff (e-flux)
Rainbow Tribe: Affectionate Movement R&R exhibition at SPACE Mare Street, London is open until 7 September.
Categories: Featured Artist
Date Posted: 23 August 2018