Larry Achiampong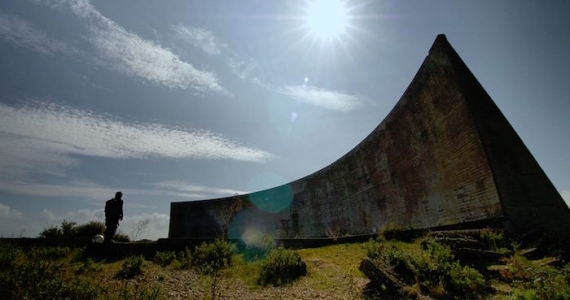 Larry Achiampong's solo and collaborative projects employ imagery, aural and visual archives, live performance and sound to explore ideas of cross-cultural and post-digital identity – in particular, dichotomies found within a world dominated by Facebook/tumblr/Wikipedia/YouTube-based cultures.
The spirit of Relic Traveller comes from the idea of world building and imagining new possibilities beyond our current social, political, environmental and technological climates. It is important to me that the work connects with audiences who may not see themselves or their histories represented or welcomed in stories or traditional gallery spaces. One of the great things about the project is its ability to exist beyond simply being an artwork, with elements that have been activated in places as disparate as atop of Somerset House or in Hub-Tones (Kamasi Washington's collaboration with artist Jenn Nkiru). The majority of people who have seen my work will do so in open environments such as the street or the internet.
A current recipient of Artsadmin's Artist's Bursary Scheme and a Somerset House Studios Resident, Achiampong's has exhibited, performed and presented projects within the UK and abroad including Tate Britain/Modern, London; Hauptbahnhof (dOCUMENTA 13), Kassel; The British Film Institute, London; Modern Art Oxford, Oxford; New Art Exchange, Nottingham; SAVVY Contemporary, Berlin; Bokoor African Popular Music Archives Foundation, Accra; The Mistake Room, Los Angeles; Prospect New Orleans, New Orleans; and Diaspora Pavilion – 57th Venice Biennale, Venice.
Upcoming projects include Digital Imaginaries at ZKM: Centre for Art and Media Karlushe, (17 November 2018 – 31 March 2019) with collaborator David Blandy and 3-Phase at Eastside Projects, Birmingham (3 November – 1 December), a unique development initiative led by Jerwood Charitable Foundation.
He will be presenting Relic Traveller - Sank0fa, a new multi-disciplinary project using performance, audio, moving image and prose. Taking place across various landscapes and locations, the project builds upon a postcolonial perspective informed by technology, agency and the body, and narratives of migration. The series builds upon core ideas in Larry Achiampong's practice whilst taking new approaches, marrying linguistic threads and an original synth-based soundtrack with open cinematic landscapes.
Achiampong and Blandy have also been shortlisted for The Jarman Award 2018. Their work explores popular culture and the post-colonial position, looking at communal and personal heritage. Particularly their main body of work, The Finding Fanon series inspired by the lost plays of Frantz Fanon examining the politics of race, racism and decolonisation, and how these societal issues affect our relationship within an age of new technology, popular culture and globalisation.
Categories: Featured Artist
Date Posted: 25 October 2018