Live Art, Children and Gender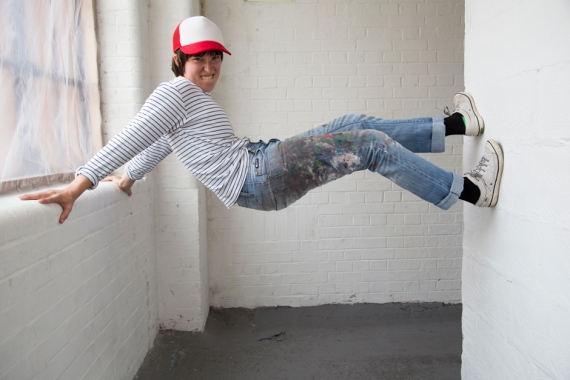 When I was a child, most people thought I was a boy. Or that's what they said, but
I think really it was that they couldn't read me as a girl, and they thought the only
other option was boy.
In summer 2016, artist Hester Chillingworth was awarded the Chisenhale Dance Space / Marlborough Theatre Small Spaces Commission, to make a piece exploring the position of the non-binary child and how performing gender might relate to performing youth and performing dance (socially and privately). Hester created Shorty, a deconstructed drag-child of indeterminate gender, who plays at the edges and frays at the edges, and a show in which the child spends most of the time negotiating how to 'be' in front of the adult audience, who seem to know both less and more than them about spaces of ungendered play.
As part of the commission, Hester also curated Playing With The Wrong Toys, an evening on childishness, gender and performance, at Chisenhale Dance Space, London in early February. This event, which aimed to open up the thinking and research behind Shorty to a wider discussion, brought together performative elements from Reggie Roberts (a 9 year old artist), Eilidh MacAskill (whose research project Gendersaurus Rex focuses on how gender is dealt with in performances made for children), and talks by Matthew Evans (who spoke about his company Gameshow's experience of making a piece, Grown Up, with children) and Cathy Naden of Forced Entertainment (who spoke about the company's use of tropes of childishness in their stage work).
"It was ideal to be able to conclude the process of making Shorty by drawing together some other strands in the thinking, to take me forward into two new roles I'm about to start – Creative Producer (Participation & Engagement) at Forced Entertainment, and Thinker in Residence (Young People, Gender and Live Art) at the Live Art Development Agency. In my work with GETINTHEBACKOFTHEVAN, I've always felt the importance of performative devices like failure, ineptitude, inappropriateness, awkwardness, for complicating and enlivening the performance-audience contract. These things are also core to the experience of what it is to be a child, in a world that is built for adults. I'm wondering particularly, how might children and young people who really understand their bodies as fluid forms, be able to speak into performance work which also seeks to play with and reimagine form? I think children are radical and can help us to keep being so, if we work to carve out space for them in what we do". Hester Chillingworth
Shorty will be wandering around, without childcare, at Traumfrau in Brighton on March 11
Categories: Report
Date Posted: 22 February 2017