Liz Rosenfeld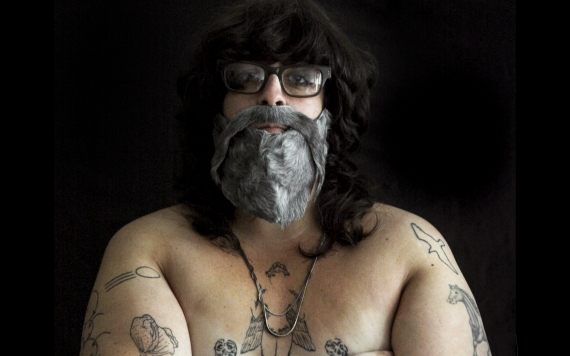 Liz Rosenfeld is a Berlin based artist utilising disciplines of film, video and live performance, to convey a sense of past and future histories. Rosenfeld is invested in concepts of how history can be queered and experienced through the moment and the ways in which it is lived and remembered. She explores how we identify ourselves with in/out community and social poly-relationship configurations. She is currently The Goethe Institute artist in Residence with Lux, London.
As the Goethe-Institut Artist in Residence at Lux, Liz is continuing the body of research that she has been working on for the last 18 months on the themes and characters in her first feature film, a futuristic queer speculative fiction work, FOXES. During her Lux residency, Liz will conduct research into questions dealing with queer dystopia, a positive embrace of apocalypse, and drawing parallels between the way information was publicly disseminated in the early days of the AIDS/ HIV crisis, and the current state of climate change and environmental destruction.
Liz will be holding several public events during her time in London. On June 5th Liz will screen her film work, The Surface Tension Trilogy at The Goethe Institute, and later in the month will present a discursive live staged reading of her most recent film treatment, FOXES. The performance will take place in the garden of Lux, and is a group performance which will include London based performer Andre Neely, amongst others. Liz will also be shooting a new film work while in residence with Lux, a companion film to Luther Price's infamous short film, SODOM (1989.) Both SODOM and Liz's new work will be screened together at the end of July as the culminating event of her time in London.
Rosenfeld is part of the queer/feminist Berlin based moving image production collective NowMomentNow, and is also one of the founding members of the food-performance group foodGASM, a satellite project of nowMomentnow, which explores the intersection of creative labor, food and industry.
Since her move to Berlin in 2008, Rosenfeld continues to work as a performer, dramaturge and film/video director. Her first solo movement based work will premiere in Berlin at Sophiensaele in November. She has received several grants from the city of Berlin in support of her performance and film work. She is currently working with the Berlin-based production company AMARID BIRD Films on her new film works. Her film work is represented and distributed by Video Data Bank.
Her work has been screened and performed internationally at venues including Tate Modern, The Hayward Gallery, The C/O Gallery, The Kunst Haus Dresden, The Hammer Museum, The Hebbel am Ufer Theater, The Kitchen, The Victoria & Albert Museum and Rivington Place. She has been profiled in publications including Art Review and Camera Obscura, as well as Missy Magazine. She received her Masters of Fine Arts from the School of the Art Institute of Chicago in 2005, followed by a Masters in Performance Studies from Tisch School of The Arts at New York University in 2007. Rosenfeld is currently working on her first solo performance work, If You Ask Me What I Want, I'll Tell You. I Want Everything, premiering at Sophiensaele, Berlin in November 2017.
Check the website for a series of events related to Liz's work at Lux.
Categories: Featured Artist
Date Posted: 24 May 2017