Marikiscrycrycry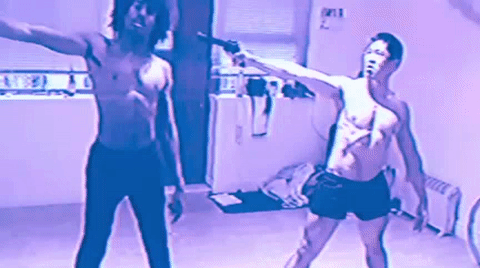 Marikiscrycrycry (b. 1992, New York) is the performance praxes of London-based choreographer Malik Nashad Sharpe. Their work deals with ontologies and hegemonies around Blackness and Queerness while probing the political and emotional potentials of an expansive choreographic proposal. Utilising the radical suggestions within dance practice, their work creates ulterior conditions for movement that cycles through the topical experiences of alienation, racial ambivalences and melancholias, allostatic load, neoliberalism and its abusive imprint on the social body, violence, trauma, hope, and desire in order to create an essential freedom and renewable aesthetic possibilities.
Their newest work $elfie$ "reneges the imprints of the contemporary moment and places them in high-relief" and is being commissioned by Fierce Festival and Marlborough Pub and Theatre. Their previous works A S S I M I L A T I O N and SAD KING have been shown domestically and internationally to considerable acclaim. GRIOT Mag recently wrote that Marikiscrycrycry's work "literally blew us away."
They have performed their work widely in the USA, UK, and Europe, including at Otion Front Studio (USA), Secret Project Robot Art Experiment (USA), Brooklyn Arts Exchange (USA), Panoply Performance Lab (USA), FiveMyles Gallery (USA), Transmission Gallery (UK), AKC Medika (HR), CLOUD at Danslab (NL), Hackney Showroom (UK), Rich Mix (UK), Theatre Utopia (UK), Royal Vauxhall Tavern (UK), amongst many others.
They have taught dance at Gibney Dance (USA), University of Illinois, Urbana-Champaign, and have held residencies at CLOUD at Danslab (NL), Colby College (USA), and Shua Space (USA) and are currently in residence at Studio 303 (CA), and Vermont Performance Lab (USA) devising a new duet with Montreal-based choreographer Ellen Furey. They have also given "lectures" at Queen Mary University as a part of DEEP TRASH: Queer Subcultures Symposium, and at Black Resistance and Techno Futures Festival at Goldsmiths, University of London.
They are running THE T R A P LAB at Rich Mix later this year as part of the Live Art Development Agency's DIY 2017 scheme.
They are currently an Associate Artist at Hackney Showroom and a member artist at Chisenhale Dance Space.
Categories: Featured Artist
Date Posted: 27 June 2017