SKIN in the GAME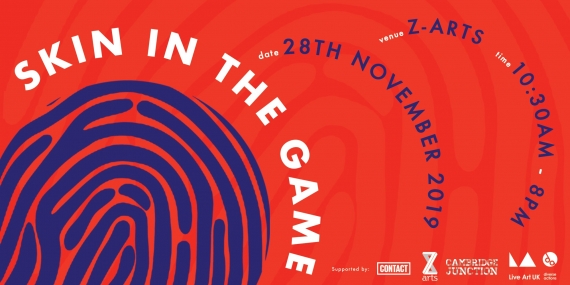 SKIN in the Game is a free day-long programme of discussion at Z-Arts in Hulme, Manchester, hosted by Diverse Actions. Diverse Actions is led by Cambridge Junction on behalf of LAUK, and supported by an Arts Council England Ambition for Excellence grant. Marking the beginning of the culmination of Diverse Actions, this event is the first in a series of planned legacy initiatives, including a publication in 2020. The programme has been active for three years, championing diversity within the Live Art sector. The Diverse Actions programme has included: helping artists with professional development, supporting the creation of new work, building upon strong leadership and stimulating discourse to ensure a lasting legacy.

SKIN in the Game is a bringing together of a representative cohort of artists, journalists and researchers of colour from across the UK. It offers a platform to thinking and discussion around ghettoisation, radical constitutions, anti-racist work, representation and leadership both within Live Art and in culture. It is an open space for discursive honesty.
"This is not a training day, it's not a day for answers - it's a day for listening."
Amy Lawrence, Diverse Actions

This one day, interactive symposium consists of discussion, workshops and performances. The morning of flash talks is hosted by Afreena Islam and Harold Offeh. They have invited Hetain Patel, Jade Montserrat, Chanje Kunda, Annie Jael Kwan and Hardeep Pandhal to make provocations regarding the sharp questions around diverse programming. The midday break will include an opportunity to see a new video commission from London-based artist, Hetain Patel and Cecilia Wee will be hosting conversations about the Live Art Sector Research Survey.
Paula Akpan, CEO of Black Girl Fest, will start the afternoon with a discussion on leadership, followed by a choice of workshops. Attendees have the option of either re-imagining Live Art of the future with Season Butler, or joining Jack Tan to consider possibilities around decolonising governance and queering constitutions: if we were to centre the anti-racist, feminist and queer ways of being what would a company's or charity's constitution look like?

To end this rich multi-method symposium is a trio of performances. Alexandrina Hemesley, a dance artist and writer and one half of Project O, will be performing a new and ongoing work: Embers. Season Butler will then be performing an excerpt from her lecture performance, Happiness Forgets, about race, sex, nostalgia and familiarity. The evening will conclude with an excerpt of Beige B*tch, Nima Séne's visually challenging, multimedia theatre performance concerned with black culture, white responsibility and belonging.
Diverse Actions have arranged for the day to be documented by local photographer Chan-Yang Kim and Nima Sene will be taking over the LADA instagram. Commentary will be collated by Chrystal Genesis from Stance Podcast with guest host L'Oreal Blackett. Stance is an arts and culture podcast, hosting interviews with a broad range of creatives, including musician Four Tet, activist and writer Janet Mock and choreographer Hofesh Schecter, covering topics such as beauty, the disappeared and the female prison experience.
Diverse Actions are actively engaging in the conversation around accessibility and inclusion. They have made practical aid for attendees a priority in their preparations for SKIN in the Game and have centered people of colour at all levels of activity. This free event is being hosted in a fully accessible building, with a designated quiet room. Live BSL Interpretation is available and the theatre space will have an audio induction loop. For those who need aid in covering the expenses of attending there is a bursary scheme for childcare and travel costs.
For more information and a comprehensive content note please see the event page.
Categories: Featured Activity
Date Posted: 20 November 2019