Steakhouse Live Festival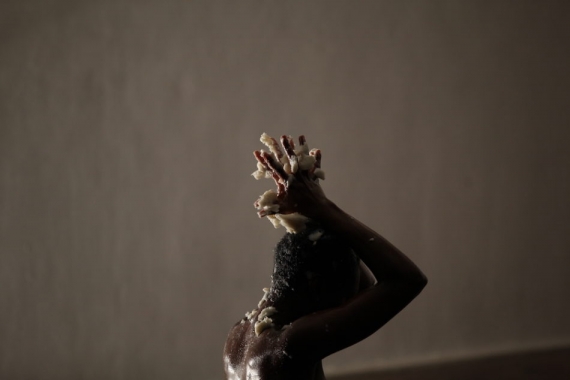 Ferocious feminism, dirty desire, queer culture and resistance: the Steakhouse Live Festival of Live Art is taking place at Rich Mix and Toynbee Studies, London on Saturday 24 and Sunday 25 February.
Saturday will showcase short performance experiments from some of the most provocative artists working in the UK today. Sunday performances will range in duration from 5 minutes to 6 hours, as audiences are invited to move between six different spaces, glimpsing into rooms of choreographic meditations, drag dreamscapes and a mountain of glitter.
"We are super proud to be presenting these two packed days of extraordinary live work featuring twenty performances including twelve UK premieres. The work presented will explore themes as diverse as the ritual of desire, pop culture, violence, queerness and resistance and we cannot wait for you to experience it all with us!"
- Katy Baird and Mary Osborn, Steakhouse Live
Festival Highlights:
Kira O'Reilly will present Untitled (Slick Glittery) redux, the London debut of this four hour performance – expect eggs, glitter, floor, vulnerability, the smattering of matter.
Amanda Coogan, one of Ireland's leading performance artists, will perform a six hour ritual confronting systematic violence against women.
Victoria Sin will premiere their first full-length performance - a fantasy in three acts and eleven parts, bringing together personal experiences of looking and wanting.
Oozing Gloop, the world's only autistic, green drag queen presents her first full theatre show, The Gloop Show: Episode 1- something between a manifesto, a meme and a moment.
Louisa Robbin, will present To Care - expect messy, desperate, naked rituals of self-hate and care.
'I don't know what the fuck that was, but I loved it!' - Audience response to Steakhouse Live
Steakhouse Live is one of the few DIY platforms for radical performance practices in the UK.
Founded in 2013, they have produced and curated over 25 events and worked with over 200 artists, programming performances in parks, streets, fields, art galleries, fetes, yards, abandoned warehouses and national trust properties.
The Steakhouse Live team includes Katy Baird, Mary Osborn, Aaron Wright, Edythe Woolley, Eleanor Fogg and Alex Lawless.
STEAKHOUSE LIVE FESTIVAL 2018 is funded by Arts Council England.
Categories: Featured Activity
Date Posted: 22 February 2018