Joshua Sofaer's Street Hunt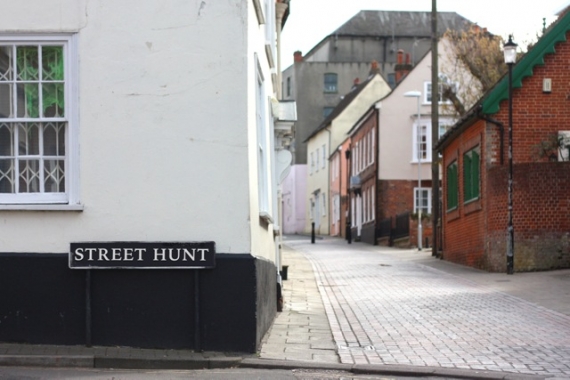 Street Hunt by artist Joshua Sofaer is a visual crossword puzzle, a treasure hunt based on the street names of Colchester.
A poem has been created by Joshua, based solely on selected street names from Colchester. Using only photos of street signs as clues with their words blanked out participants have to fill in the missing blanks to produce a story of Colchester by identifying the street name in each photo. A limited edition book containing these street photos has been created specially for the Street Hunt, which participants will use to solve the puzzle.
All sales from the cash prize will be won by the first person to correctly enter all the missing street names within the story. Up to £10,000 could be won!
Street Hunt public programme
Accompanying Street Hunt is a public programme of creative arts projects including Street Photography, Street Cinema and Street Tours. These will take place in and around Colchester's Old Bus Depot in Queen Street during August and September 2017.
In partnership with Beacon House, a local charity who support homeless and vulnerable people in Colchester the Street Photography project will present photos taken by service users of Beacon House, capturing their lives within the streets of Colchester. The free exhibition will run for one month from mid August- mid September.
Over five weekends the Old Bus Depot will be turned into a Street Cinema presenting films that respond to the theme of the street- from what it means to live on the street through to Wall Street movies - there will be something for everyone!
Local residents and artists will lead a series of Street Tours across across Colchester over three weekends. They will bring their stories of Colchester's streets to life through personalised tours.
Categories: Featured Activity
Date Posted: 21 July 2017