Take Me Somewhere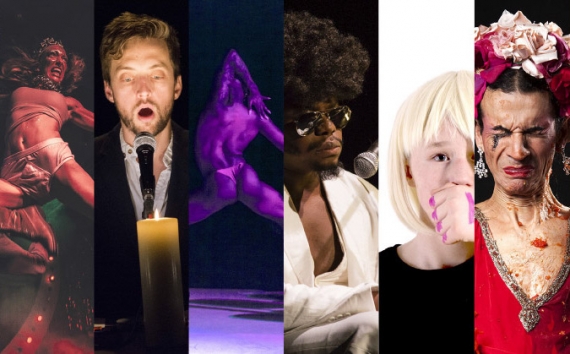 A new festival of contemporary performance. A trashstep-dubpunk morality play based on the New Testament; an ecstatic exploration of the erotic fear associated with the black male body; a blonde bombshell mother-son re-enactment of a Sia video; an invitation to 'Shoot the Sissy'; and an epic participatory rave in a dystopian fantasy future world… These are some of the performances in the first Take Me Somewhere festival, which takes place in venues across Glasgow between 22 Februray - 11 March.
Founded by former Arches Artistic Director Jackie Wylie, with support from Creative Scotland and Glasgow Life, the festival will build on and celebrate the risk-taking, leftfield legacy of the venue, which was famous for giving a platform to innovative homegrown talent, alongside inspiring international performance. Take Me Somewhere will extend this vital platform across the city, showcasing some of today's most vital work from beyond Scotland, whilst providing a crucial support structure to Scotland's innovative and exciting community of artists and makers.
Jackie Wylie said of the festival:
"It's fantastic to launch the first Take Me Somewhere festival, which I hope will carry forward The Arches' unique spirit. There was a remarkable sense of loss and grief when The Arches closed, because of the incredible community that had built up around it over its 25-year life span. As a result, there has been an overwhelmingly positive response to carrying on this legacy. We are delighted to be working with venue partners all across the city, who have opened up new creative possibilities beyond The Arches building. The range and scope of the work in the festival would not have been possible without the generosity and support of our funders and collaborators from across Scotland and further afield. The festival is about journeying together – to somewhere new and somewhere extraordinary."

Artists featured in the festival, who are working within Live Art, include Kieran Hurley with Heads Up (22 Feb), 21CC with The Ballad of the Apathetic Son and his Narcissistic Mother (24/25 Feb), Jaamil Olawale Kosoko with #negrophobia (26 Feb), The Art of Care-full Practice Symposium (5 March), Winner of The Adrian Howells Award for Intimate Performance: Nic Green (5 March), Robert Softley with Discourse or Intercourse/Talking & F*cking (7 Mar), Nando Messias with Shoot the Sissy (7 March), Panti with High Heels in Low Places (10 March), Lucy Mccormick's Triple Threat (11 March) and Take Me Somewhere Sticky (11 March).
Also a new publication, Glasgow's Review of International Performance (GRIP), which will be created and printed by Take Me Somewhere, and is supported by the Live Art UK.
Categories: Featured Activity
Date Posted: 24 January 2017