I see a fake moon rising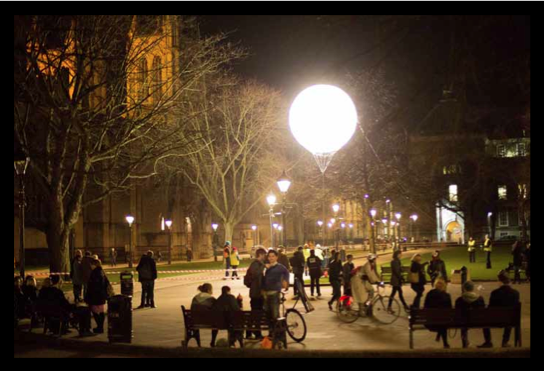 01 October 2013
I see a fake moon rising is a free publication about audience and artist development created in response to IBT13 (In Between Time 2013), a four day festival of theatre, Live Art, dance, opera, feasts, talks, parties and public art.
Using IBT13's distinct approaches to programming and artists' development as case studies, this publication considers different strategies for bringing artists and audiences together in highly instrumental ways, particularly through the commissioning of participatory work, the siting of art in the public realm, and the creation of new forms of critical discourses. I see a fake moon rising features essays, interviews, dialogues and critical reflections by IBT's producers, partners and collaborating artists in response to specific IBT projects and initiatives and on wider issues of artist and audience development.
This publication has been steered and edited by Maddy Costa in her role as Writer in Residence for IBT13. Over the course of the festival, Maddy led a group of five emergent writers through performances and interventions in urban glades, backstreets, docksides, galleries and theatres, and mentored them as they developed their own critical responses to IBT13. A collection of the group's writings can be found on Dialogue, a collaborative playspace for those who make, watch and write about theatre developed by Maddy Costa and Jake Orr.
I see a fake moon rising is a free online publication that has been developed as a strategic partnership between IBT and Live Art UK, to profile the contribution of Live Art to the creation of new spaces and sites for art and new forms of audience engagement.
Edited by Maddy Costa.
Published by Live Art UK and In Between Time, 2013.
Designed by David Caines.