Live Art Almanac Volume 3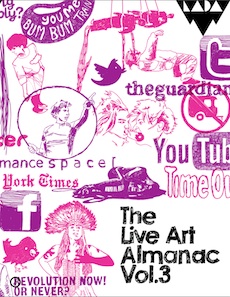 30 June 2013
The Live Art Almanac Volume 3 is now available to buy on Unbound.
The Live Art Almanac Volume 3 draws together all kinds of writing about and around Live Art, and aims to be both a useful resource and a great read for artists, writers, students and others interested in the field of interdisciplinary, performance-based art.
The Live Art Almanac Volume 3 is co-published by the Live Art Development Agency and Oberon Books in partnership with Live Art UK, PS 122 (New York, USA), Performance Space (Sydney, Australia), La Pocha Nostra (San Francisco, USA), and Maska (Ljubljana, Slovenia). The Live Art Almanac Vol. 3 has also received support from international Associates Asia Art Archive (Hong Kong), ArteEast (New York/Middle East) and Ashkal Alwan (Beirut)
Content for the Almanac Volume 3 has been generated from an international open call for submissions of writings from any source between January 2010 to December 2011.
We welcomed all kinds of submissions, from more traditional forms such as journal essays, newspaper reviews, transcribed interviews, symposium papers, public lectures or book chapters, to digital forms such as blog entries, Facebook pages and Twitter conversations, to even less conventional forms of "publishing" such as emails, diary entries, and letters. We particularly encouraged submissions that were engaging, provocative, and thoughtful writing on and around the contemporary cultural landscape in which Live Art practice sits and must shed light on the various debates and ideas in circulation within that landscape.
By the deadline of January 2012 there were over 230 submissions from across the world – the largest ever received for the Almanac. From these around 90 texts have been selected by the publishing partners to include in Volume 3.
The first Live Art Almanac was published in the UK by the Agency in partnership with Live Art UK in 2008.
Live Art Almanac Volume 2 (2011) was an international partnership between the Agency, Live Art UK, Performance Space 122 (USA), and Performance Space (Australia) - organisations committed to the development of Live Art and contemporary performance in the UK, USA and Australia.
For Volume 3 Live Art UK wanted to widen the international framework further to reflect the dynamic, international contexts in which Live Art and radical performance-based practices are happening and represent a broader range of writings from around the world. To help us do this we collaborated for the first time with Maska in Slovenia, and La Pocha Nostra with their extensive networks across Latin America, North America, Southern Europe and Australasia. We also had the additional support of our international Associates Asia Art Archive in Hong Kong, ArteEast in New York/Middle East and Ashkal Alwan in Beirut to help spread the word.